The Largest Vue.js Online Conference of 2023 is Announced!
Have you enjoyed working with Vue.js this year? Of course, you have! And we're pretty sure you're going to love working with it even more in 2023, as you learn all the exciting new tools and techniques you can leverage to make your code better than ever.
That's why we're excited to let you know that Vue School has just announced the Vue.js Nation Conference is taking place in January next year!
What is Vue.js Nation and why should you care?
Put it this way, Vue.js Nation is the biggest and only 100% free online Vue.js conference in the world and it's just around the corner!
Save the date for Vue.js Nation 2023…
It's all happening 25&26 January
Reserve your spot for FREE!
It brings developers, CEOs, CTOs, web designers, and more together from all over the world (basically, the whole Vue community!), keeps us up to date on the framework's latest news and developments, and gives us the opportunity to engage with Vue industry leaders, framework contributors, and the creator of Vue.js himself, Evan You.
What's in it for you?
Find out what lies ahead for Vue.js and Nuxt 3 Get to know Quasar, Vuetify 3, Vite, Vitest, Vue.js, VueFire,Typescript, VueUse, Vue i18n, and more! Learn directly from the Vue.js Core Team and the best community and industry experts Network with 1000s of attendees from all over the world YOU get to ask your burning questions to all the industry leaders and learn what interests you All for FREE!
You can expect only the greatest speakers from the community We will be honored to host the creator of Vue.js, Evan You, who will be delivering a Key Note address!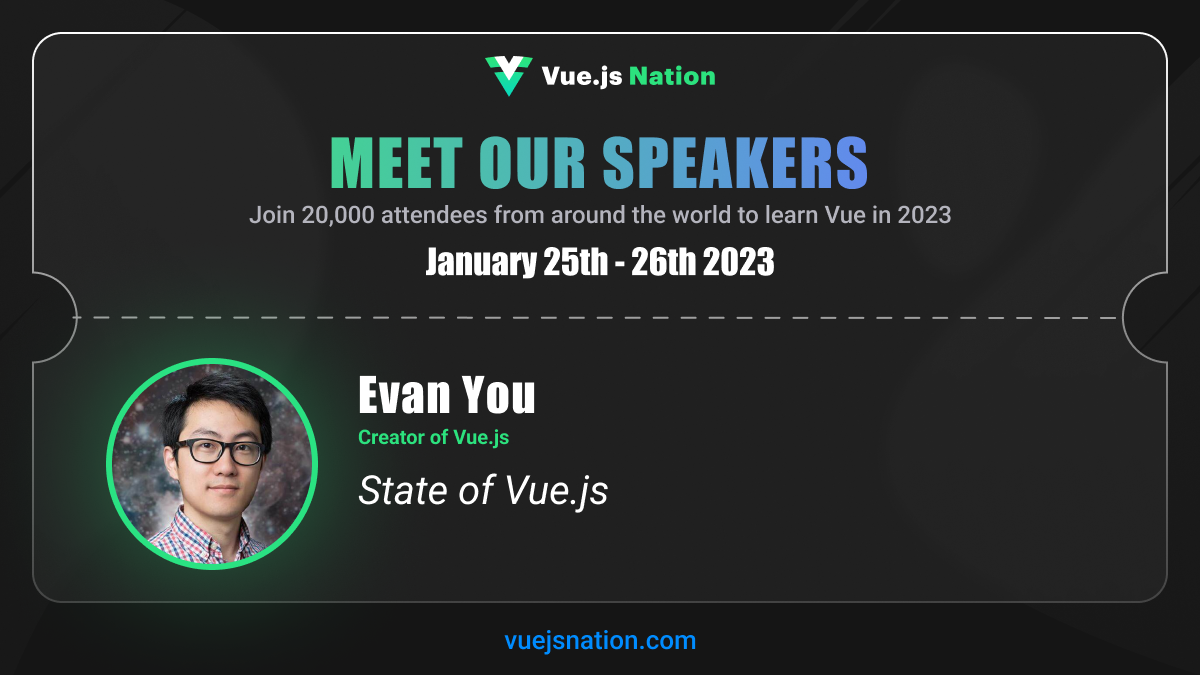 Plus many more of the greatest industry leaders and experts, including:
The creator of Vuetify, John Leider.
The author of the first Vue.js book and the Founder of Vue School, Alex Kyriakidis.
Lead Vue School Instructor and Vue.js Forge Master of Code, Daniel Kelly.
Mastering Nuxt 3 Instructor and Vue.js Educator, Michael Thiessen.
Staff Software Engineer at PathAI and Faker Core Team Member, Jessica Sachs.
Senior Web Developer and Quasar Core Team Member, Luke Diebold.
Senior Software Developer at Pax8, Paige Kelley.
Co-Founder & CTO of Vue Storefront, Filip Rakowski.
Google Developers Expert for Web Technologies and an A11Y Advocate, Anuradha Kumari.
Creator of Formkit, Justin Schroeder.
Experienced Software Engineer at Shopware, Ramona Schwering.
Senior Software Engineer at Microsoft and Ambassador for Nuxt, Maya Shavin.
Vue.js Core Team member, Creator of Pinia and Vue Router, Eduardo San Martin Morote.
And more are coming!
Stay tuned for our speaker announcements!
What will you learn?
More like, what won't you learn!?
As you can see, we've pulled together the Vue-est of speakers and experts to help you master bite-sized tips and tricks of the most exciting Vue.js ecosystem frameworks and tools.

Apart from 20 expertly presented in-depth talks on the Vue.js ecosystem tools and libraries, and a significant number of tips & tricks that will help your day-to-day developer struggles, you can also look forward to not one, but 2 Live Panels with some of your favorite Vue.js community contributors!
What better way to learn about the future of Vue.js than by communicating it directly with the Vue.js Core maintainers?
Major goodie alert.
Don't forget, joining virtual conferences comes with other extra perks - like digital swag!
You'll have your chance of getting free credits, winning amazing gifts and swag packs, entering giveaways, and lots of other exciting activities!
Pssst! You'll be able to see the latest vacancies from some top companies and even nail your dream job at Vue.js Nation!
Last year was a huge success, with 1000s developers, open-source contributors, company leaders, and other Vue.js enthusiasts joining us live from around the world. This year is going to be even better!
Remember, the event is 100% free for our community members and all are welcome (from beginner to pro), so what are you waiting for?
Block your calendar out for 25-26 January, and grab your ticket for Vue.js Nation 2023 now!
Don't miss out