The Official Vue.js Certification Program is Announced!
On a mission to help the Vue.js community and framework grow, Vue School aims to be the number one source for Vue.js knowledge for all skill levels. Inspired by this, we developed the world's first dedicated Vue.js training platform in 2016, and we've been going strong, training over 1.5 million developers and counting, ever since!
Over the years we've worked with the greatest industry experts, developers, and instructors from all corners of the globe to create hundreds of lessons, courses, workshops, and tutorials. That's why we're proud to announce our latest partnership with the Vue.js Organization, as we set out to make developers' lives easier and raise the profile of Vue.js developers around the world…
The Official Vue.js Certification Program!
As an open-source project, the Vue.js organization guides the development of Vue and its ecosystem, and supports the community by giving them confidence that the core team will consistently maintain, drive, and guide the project.
As such, they've come on board to help us achieve our two biggest objectives:
Define the standard of what it means to be a competent Vue.js developer
Provide a guarantee to employers that certified candidates will meet these standards
Get notified when the Program goes live, or keep reading to find out more about it!
Why get your Vue.js skills certified?
Developer skills are in high demand, and this isn't going to change. And while staying up-to-date with online courses is essential to staying relevant, certification is evidence of real-world skills and showcases your commitment to staying up-to-date with technology, setting you up for career success.
For developers, certification will provide reassurance that you have the knowledge and competence to use Vue.js in a job role. It will also give aspiring Vue.js developers a clear understanding of what they must accomplish from a skills and best practice perspective to be able to use the framework to its full and intended purpose.
For employers, you'll have peace of mind that certified candidates will be able to utilize Vue.js to the full to deliver optimum solutions for your business.
As an added bonus, certification will also likely increase the demand for Vue.js developers as companies start to see the framework's worth as a result of the solutions certified developers will be able to deliver.
What's in it for you?
Turbo boost your CV: Stand out to employers. Add a recognized certification to your CV and prove you know your Vue.js! Level up your skills: Stay up to date with best practices and the tech skills employers are looking for. Learn new skills to boost your capabilities, and accomplish more with Vue.js. Grow your career: Invest in yourself and get a professional advantage. Get on track to career success with the latest learnings and development, and unlock new job opportunities. Elevate your earnings: Improve your knowledge and improve your chances of finding a new job, being promoted or starting a whole new career
What's in it for your team?
Improve morale: Keep your developers motivated and satisfy their need to achieve new goals and learn new skills. Give them the opportunity to improve their knowledge and keep them happy and committed. Boost productivity: Education is key to unlocking the full potential of technology. Unleash your team's ability to leverage Vue.js to the full and start building, and shipping, better products faster, and with fewer bugs. ****
Increase skills: Add new skills and broaden the variety of skills available in your team. Enjoy a richer diversity of thought and perspective that challenge and strengthen your offering. Improved efficiency: Retain valuable organizational knowledge and build your team's competence and confidence to be able to tackle just about any task that comes their way.
Other Benefits of Certification
It's all too common for developers to lack confidence in their abilities and struggle to recognise their value or their skills. Many developers are actually prone to imposter syndrome – regardless of whether they're junior or senior developers!
Having gone through all the preparation and passing the exam, certified developers are more likely to recognize their own worth and their ability to competently use Vue.js. This can result in devs being more confident in the job market and achieving higher pay, as employers will be assured that they know their stuff and that they are invested in their tools.
In fact, according to the Pearson VUE 2023 Value of IT Certification Candidate Report, upon earning a certification:
27% of tech professionals earned a promotion
35% earned an increase of 30% or more
92% have greater confidence in their ability to do their jobs
81% produced higher quality work and 72% were more efficient and productive
Is Vue.js Certification for you?**
Whether you're just starting out or you're a Vue pro, the certification can be a vital addition to your CV.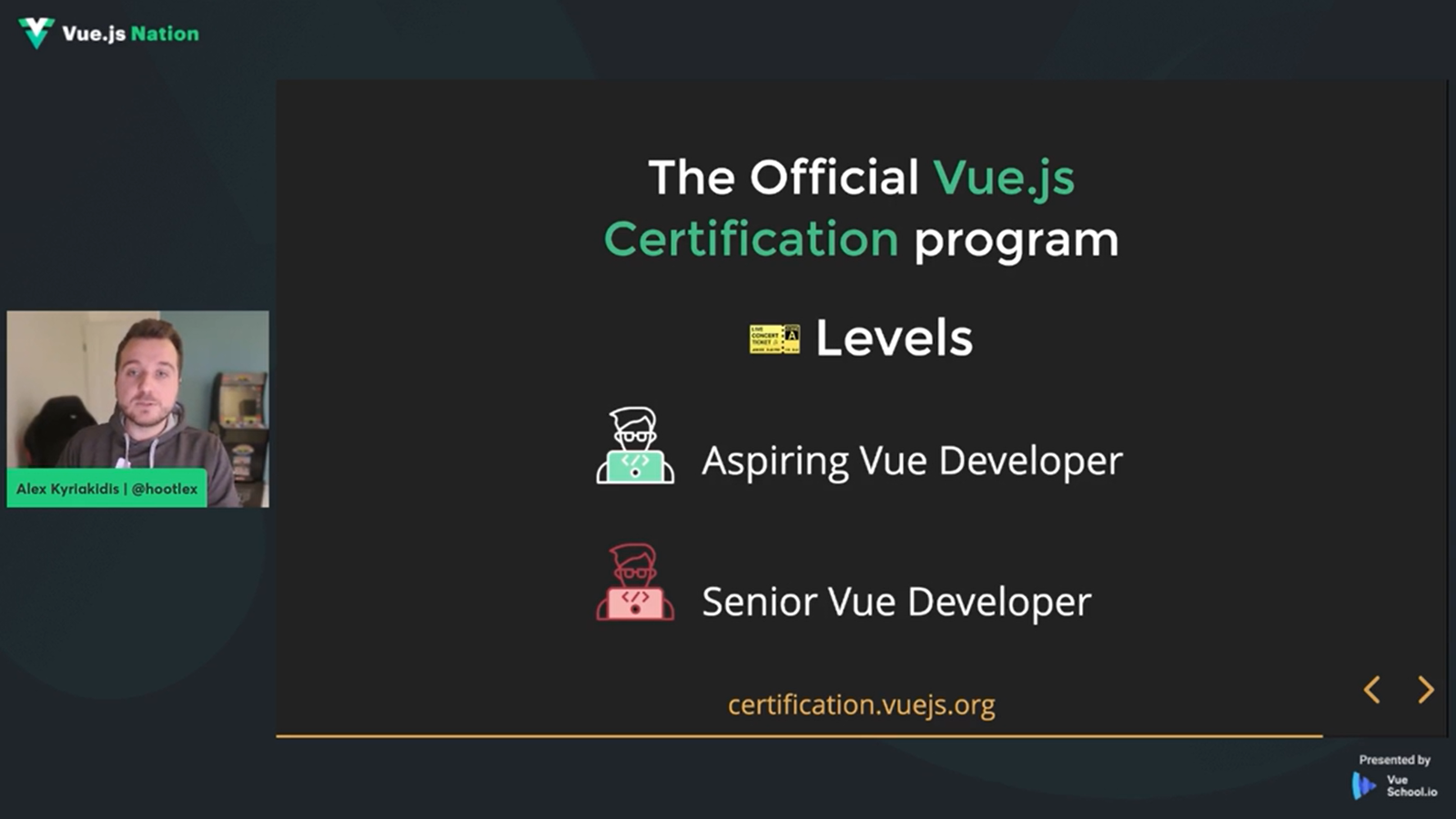 Perfect for junior and senior developers, individuals, and teams, the certification (https://certification.vuejs.org) gives a clear view of what is required from a skills perspective in order to use the Vue framework to its full and intended purpose.
Aspiring developers will be equipped with the knowledge, credentials, and confidence for learning and being successful in a Vue job. There are no prerequisites, but if you're familiar with other JavaScript frameworks, you should be able to adapt to using Vue.js quite quickly. Highly approachable, versatile, and performant, it uses JavaScript for front-end application development and is as easy to learn as it is to use.
For senior devs, if you're already using Vue 3, you're probably all set to put your skills to the test. That being said, it's a good idea to take a fresh look at the Vue Guides – maybe you'll discover a new (or updated) feature! Remember, Vue 2 will come to end of life on 31 December 2023, so now's your chance to get comfortable with some of the new and more advanced features, like the Composables and TypScript, that you are sure to stumble upon sooner or later.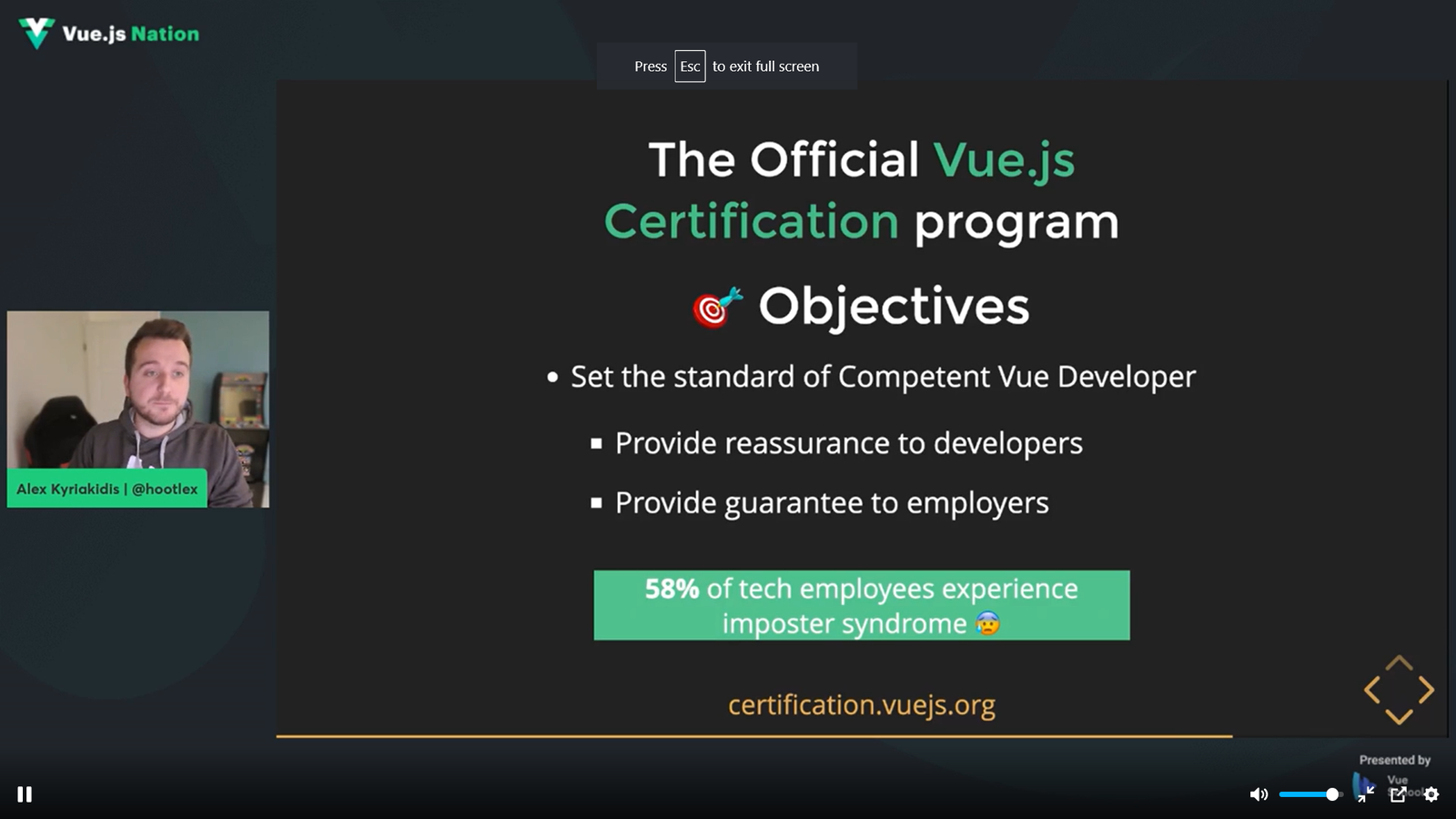 For employers, upskilling your team and helping your devs to gain their Vue.js certification will allow you to utilize Vue to its fullest and develop better software with Vue.js. This is likely to increase the adoption of the framework and demand for more Vue.js developers as companies really start to see the framework's worth.
Get your Vue.js stamp of approval
Get your Vue.js expertise certified through our thorough assessment program based on real-world challenges and practical-based online examinations. Our objective is to provide clarity and understanding of what is required to use the framework to its fullest extent and capabilities to deliver the best possible results in a role as a Vue.js Developer.
We have spent months designing a truly excellent experience for the developers who participate in the program and planning the structure, which is going to include:
Rigourous online examinations
With further roll-outs likely to include:
Study guides
Preparation training
Hands-on coding challenges
Online training boot camp (for anyone who needs it)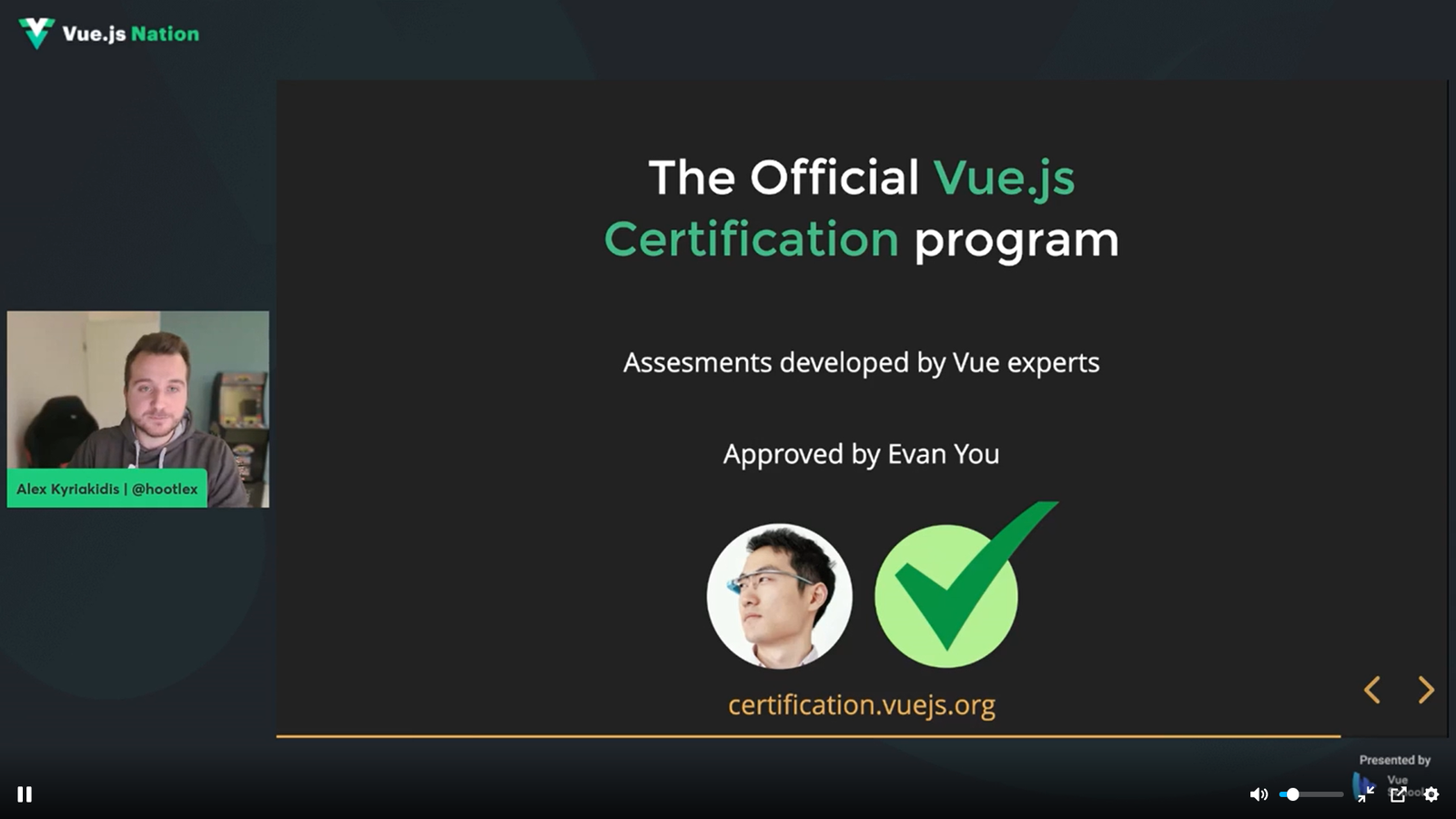 All exam questions are being developed by a team of experts at Vue School and reviewed by Evan You himself. So you can rest assured you'll be answering professionally crafted and up-to-date questions that hold real-world credibility. Evan You did also announce the certification program in his State of the Vuenion 2023 talk at Vue.js Amsterdam.
Can't wait to get started?
We're hard at work refining the preparation guides and defining the curriculum for each level but sign up for project updates now and you'll get access to early bird pricing for the certification program on the day it launches! At this stage, the program is set to launch end of Q1 at the earliest, or Q2 at the latest.
Watch this space for more updates on the Vue.js Certification Program!
We're really looking forward to making this a huge success for the framework and everyone who participates and goes through the certification process. We can't wait to walk this learning path with you and watch our community grow! Join us on this journey and sign up for the latest updates on the official Vue.js Certification website.