FRONTEND DEVELOPER LOVE CONFERENCE 2 DAY CONFERENCE
This February Vue is going to be at the center of the second day of the Frontend Developer Love Conference Day Conference. The conference will have a duration of 2 days:
On the 15th & 16th of February, 2018 respectively.
The conference will cover topics about Vue.js, React, Angular, and many more. We believe that a conference is about the whole package: headlined by some of the most renowned international talents on the subject. The Vue.js Conference Amsterdam is the key event to discover, engage, learn & exchange with the Vue.js community.
About Day 1
Frontend Developer Love Conference is a Two Day conference with 21 Speakers covering multiple Javascript / Frontend case studies. This is the agenda for Day One 15th February 2018 covering hot topics including the most popular frameworks in the Frontend Developer World. Main 3 sessions will include Reactjs, Angularjs and Vuejs. And the final part of the day will look at other carefully selected topics.
The lineup contains speakers that will give talks both days, so each is presented only once.
About Day 2: Vue.js Conference Amsterdam
Vuejs Amsterdam will be the largest Vuejs Conference to take place in the world. We are expecting over 750 Vuejs enthusiasts to walk through the door on the 16th February which is Day Two of Frontend Developer Love Conference. A Two day Conference on the 15th and 16th February 2018. The Vuejs Conference Amsterdam is the key event to discover, engage, learn & exchange with the Vue.js community.
The Conference program has been announced for both day 1 & day 2. To stay up to date regarding speakers, talks and more, follow the organizer's twitter account @Frontend_Love . Both days (15–16 February) start 7:30 (check-in) and close at 19:00. The Conference schedule contains intros, coffee breaks, lunch breaks, & more.
Discover all the speakers & talks here.
Attending & Availability
The only tickets left, are the Livestream Ticket Both Days (15-16 February). We hope you got your ticket in time!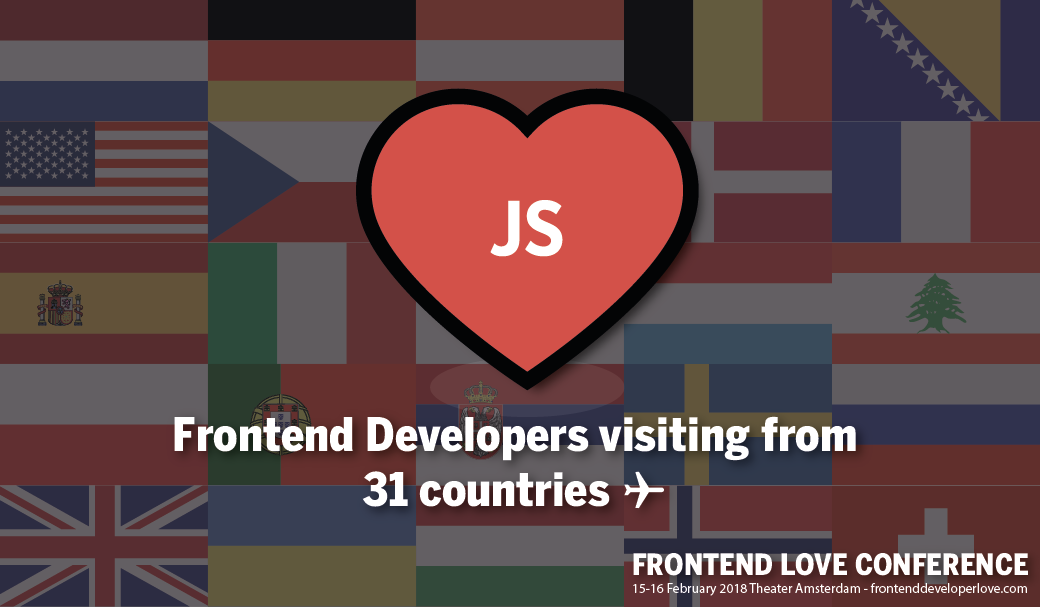 The Location
Both days of the event will be hosted at Amsterdam Theater.
Sponsors & Partners
We are proud to be partners of The Vuejs Amsterdam conference! That being said, let's say a big thank you to all the sponsors for making this event possible.
PLATINUM SPONSORS
GOLD SPONSORS
SILVER SPONSORS
BRONZE SPONSORS
PARTNERS
COMMUNITY
CHARITIES
A unique opportunity to promote your company, product, service to a group of passionate, ambitious and dedicated Frontend Developers. You have the chance to increase your Frontend Developer teams knowledge, hire the best talent, Increase your brand awareness, show your investment in the sector and reinforce your teams!
Organizers
Vue.Js Amsterdam is organized and run by FrontendDeveloperMeetups.com